WAKEBOARD AND SURF OSOYOOS
Our signature experience! Whether you want the convenience of a driver with your "boat rental," or you are a novice wakeboarder wanting to step up your game, call Wakepilot. We do much more than take you for a ride in a boat. We combine the best boats available, with instruction from professional coaches to ensure you have a safe, successful experience on the water. Our prices include a coach/driver, top-of-the-line Super Air Nautique, Hyperlite boards, surfers, vests, and gas in the tank. Note: rates are NOT per person. They are charter rates that get you and your crew the best wakeboard/surf boat available all to yourself. Note: there are no hidden surcharges. Fuel is included in the price! Reservations within 24 hours of departure time must be made by phone.
Wakepilot is the only sponsored school in the Okanagan to receive this pinnacle wake/surf boat. Recognized as the industry leader for wake and surf wave performance, the G23 stands alone as the number one choice for riders around the world. A world class wake that anyone can surf and pro riders demand is what this boat is all about. Quality, innovation and luxury define the G23. The best wakes, the best surf waves and all the high-end refinements you've come to know from a Super Air Nautique, that's the G23.
The most popular boat in Nautique's GS family, the GS22 is the perfect boat that does it all. With hull versatility derived from the iconic Ski Nautique and Super Air Nautique G23, this boat is perfect for any crew that wants to have fun surfing, skiing and wakeboarding. A loaded interior packed with all the latest innovations, the GS22 is ready to bring the good times to everyone who steps aboard.
Add a three person biscuit style tube to your any "Wakeboard and Surf Osoyoos" charter on our G23 or GS22. All other gear is included in the charter but tubes incur a surcharge due to their high replacement cost and increased insurance premium for Wakepilot. Worth every penny. Tube may not be exactly as shown. We replace them often. The tube size and shape may vary from that shown.
Since 2012 Wakepilot has offered private wakeboarding, surfing, and water-skiing lessons for those who wish to have us come out on their boat. Priced at just $100/hour since the gas and gear are provided by you. 
For those relatively new to towed watersports like wakeboarding and surfing, we also provide instruction on driving techniques, gear set-up, and boating safety. So give us a call and book your lesson with Wakepilot to take your riding to the next level!
Private lessons must be arranged by phone as coach availability may be limited. Give us a call at (250) 495-4195 to book.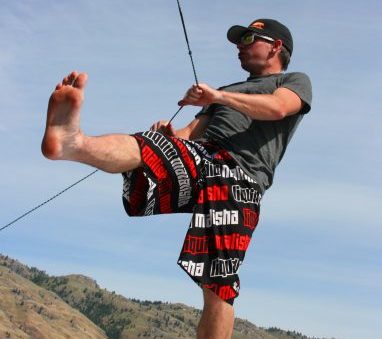 Victoria Day to Labour Day
8:00am – 7:00pm
Labour Day to Thanksgiving
9:00am – 5:00pm
Call anytime.
We are available outside of
regular hours and off-season.