Wakeboarded since the sport was invented. That's nearly 30 years of experience on the water. He's a certified coach with fifteen years coaching experience and still pushes his riding despite being in his declining years. Rob is passionate about Osoyoos both as a resident and business owner. He serves as Board Member of Destination Osoyoos and the Osoyoos Airport Development Society. In his downtime, he likes to relax by flying the Boeing 737 for Air Canada.
Kailee Quist
General Manager
Kailee is the beating heart and soul of Wakepilot. Full stop. Her genuine care and concern for every other team member is the foundation on which our top-rated customer experience is laid. As a former business owner as well as BC Ferries crew member, she came to Wakepilot slightly overqualified both as a manager and boat operator leading to her rapid and frequent promotions in the company. Guests often comment on Kailee's constant smile and unassailable positivity.
Jesse came to Wakepilot as a coach after many, many sessions as a customer. Jesse grew up in Crofton on Vancouver Island and has been wakeboarding since he was six. Jesse podiumed at his first appearance at the Canadian Wakeboard Nationals in 2022! An avid surfer as well, Jesse is nearly as talented behind a boat as he is on the ice as a goaltender. His accomplishments include playing Division One hockey at the university of Alaska Fairbanks as well as playing for Team Canada and winning a bronze medal at the World Junior A Championships. Jesse loves anything in the outdoors including camping, mountain biking or surfing the breaks in Tofino.
Jordan was born into the sports world. He is a high level ice hockey official and has played hockey his whole life. Jordan has been taught by many amazing coaches and mentors throughout his athletic career. Taking from what he has learned from his coaches, he pursues being the best possible coach on and off the lake. Jordan loves the outdoors and being on the water, whether that be fishing, camping, hiking, snowboarding, wakeboarding, surfing or any other outdoor activity. He is extremely passionate when it comes to helping others succeed.
David is a prairie kid from Edmonton, Alberta but was born with a BC heart. He spent his summers coming to Kelowna, Penticton, and finally the last three seasons to Osoyoos. David's current season with Wakepilot has him as a charter captain on our Harris and HeyDay. He is primarily a wake surfer but is also excited to teach people how to e-foil this summer. In the winters, David spends most of his time in the hockey rink. This past season he has shifted to coaching with the Kings Club Association in Sherwood Park. As an Albertan, David is obviously a huge country music fan, but has next levelled it by volunteering as a square dance caller at community centres across the province. He also attends the University of Alberta as an economics student. David finds joy in watching people succeed since there is no better feeling than seeing someone have fun. 
As a founding member of the Christian pop band, the Altarboyz, Scott left high school early to pursue a career in music. After releasing their self titled album and touring North America extensively, Scott left the band to pursue his other love, surfing.  Scott arrived to Wakepilot as an avid surfer who just wanted to connect our guests with our great experiences. He was a natural fit as a coach but just wanted to work the beach despite our pleading with him to captain and coach. For 2022, he has no choice. We are pressing him into service where his best skills intersect – board sports and customer service. If Scott isn't on a HeyDay WT2 charter, he's spoiling guests on one of our Luxury Harris Sunliner cruises. Most mornings you'll find him teaching someone to e-foil. In the little bit of spare time we give him, Scott enjoys hockey and spending time with friends. The Altarboyz album is still available on Apple Music and Spotify.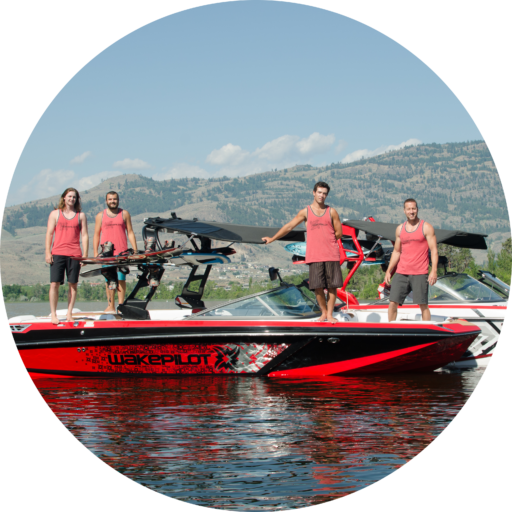 Wakeboard coach
taking applications
Wakepilot recruits early every spring for our coaching crew. A love of sharing the sport and helping make experiences of a lifetime is a must. Applicants must also have previous experience teaching wakeboarding, surfing and skiing. Preference is given to NCCP certified coaches and those that have competed. Spend the summer on the warmest lake in Canada in a brand new Super Air Nautique teaching watersports, developing athletes, teaching boat driving, doing private lessons on guests' boats, and generally living the dream. Additional benefits include free daily sets and use of other Wakepilot equipment. To apply, please send a resume to rob@wakepilot.com
With the goal of decreasing our impact on the environment, Wakepilot is bringing windsports to our offerings. Introducing kiting and wing surfing/foiling means we are looking for IKO certified coaches. You can coach kiting anywhere in the world. Check this one off your bucket list. Come to the warmest town in Canada, Osoyoos, BC. If you are also into towed watersports, this is the job for you! To apply, please send a resume to rob@wakepilot.com
Join the team at the top-rated tourism company in Osoyoos. If you love connecting with people and then connecting them with exceptional experiences, Wakepilot is the place to be. Duties include answering inquiries, taking reservations, entering them in our computer reservation system, checking-in guests, conducting safety briefings, dispatching and receiving watercraft and preparing vessels. Spend the summer on the beach at an attractive wage+commission pay structure. Additional benefits include use of equipment. Preferred applicants should have customer service, boat driving, mechanical, and computer experience as well as strong organizational skills. To apply, please send a resume to rob@wakepilot.com
If you have a love of all things mechanical, especially boats, and enjoy working outdoors, this is the job for you. Applicants should have experience with engine maintenance and have a basic understanding of electrical systems. Duties include daily checks of all vessels, oil changes, diagnosing and making general repairs, preventative maintenance, cleaning and fuelling vessels, and docking boats. Additional benefits include use of Wakepilot equipment. To apply, please send a resume to rob@wakepilot.com
Nearly 20 years ago, Wakepilot started operations with one humble Moomba Mobius boat. Since then, we have grown to be the largest watersports school in western Canada winning recognition from the industry, sponsorships from boat and gear manufacturers, and top-ratings from our guests.
Our success doesn't come from our top-shelf fleet of boats but rather from our fantastic staff who love creating exceptional experiences for our guests on the warm waters of Osoyoos Lake.
Wakepilot sponsors local sports as well as supporting several local and regional charities. We understand that being a good corporate citizen means giving back to the community. To that end, Wakepilot is also pleased to offer scholarship(s) up to $6,000 to Wakepilot team members pursuing further education in technical/trade schools, college, or university. 
RACHEL, Waterfront Team – starting studies in Criminal and Social Justice at College of the Rockies.
SOPHIE, Waterfront Team – starting studies in Business Management at UBC-Okanagan.
FAITH, Customer Service Manager – continuing studies in Engineering at UBC-Okanagan.
LOCHLAN, Maintenance and Waterfront Team – continuing studies in Sport and Exercise Nutrition at the University of Hull, United Kingdom.
RAKELLE, Lead Customer Experience – continuing studies in Criminology at SFU.
JANESSA, Customer Service Manager – continuing studies in Dental Hygiene at UBC.
EMMA, Customer Service Manager – starting studies in Psychology at Union College, NY. 
It was really fun! It was my first time in Osoyoos with my family and planning to return with my boyfriend to have another jet ski ride. I will recommend Wakepilot to my friends. All the employees were very nice and approachable. Thank you guys!
I want say how great our coach was during our session. Personable, professional and made our time on the water the highlight of our summer vacation. You guys have a great boat as well and we've been telling all our friends about our time in Osoyoos wake surfing. Thanks again!
Excellent staff! Excellent equipment! Excellent experience! Thank you!
We had a great time. Thank you so much Mike for all your patience with the kids. Tubing was great and Tara enjoyed the wakeboarding…..we will definitely be back next year.
This was our second season booking Wakepilot to take our family wake surfing. Our coach took six of us out for a two hour booking. He was very informative and easy to learn from as he described the wake surfing techniques in a way that was fun and easy to follow. He was very patient with our family, especially encouraging those who hadn't surfed before. I would highly recommend Wakepilot.
My absolute favourite - as usual Rob and his crew impressed. We had a boat load of kids who all wanted to learn and Wakepilot was awesome! Every kid got up on the wakeboard! We will be doing this again! The brand new boat didn't hurt with the learning curve. Thank you guys!!
Rob, as a business owner myself, I just wanted to let you know how much we appreciate your business and customer service with Wakepilot. Two years we have rented with you now and we highly recommend you and your crew to our friends. Cheers!
We just went out with Wakepilot and what an absolutely amazing time we had. Our Coach was so wonderful. I honestly cannot tell you when I've had as good of a time in my life. My husband said it was right up there with Disneyland. For me it was actually better! Thank you so much. We will see you for sure next year!
I am 49 years old and never had the luxury of wakeboarding etc. in my life. Up for the challenge, my kids also desired the first time experience. The coach made my reluctant, shy kids extremely comfortable. Not only did they get up, but they are now planning our next vacation to Osoyoos! Great family experience and worth a second trip out this summer! Not sure what was brighter…..the sunshine…… or smiles on each and every one of our faces!
Thank you to Wakepilot and the Wakepilot staff. We spent a few hours in the afternoon with Wakepilot. Some of the group had been before and made it look so simple for those of us who hadn't. I had never been wakeboarding before and I really didn't know what to expect, but our coach explained what we had to do to get up extremely well. He was very encouraging and a really good teacher. I can't wait to get back out there and give it another go. Thanks again!
Last week our teenage children and their two friends spent a great morning with Wakepilot learning to wakeboard. We can't say enough good things about the staff. Our coach was so patient and had them all up on the board. They definitely are hooked! We certainly recommend Wakepilot to anyone wanting to learn to wakeboard.
Our friends' boat broke down and all our kids wanted to go water skiing and wakeboarding. We contracted Wakepilot for three hours to give everyone a chance and were amazed by the professionalism and friendliness of the staff. They helped all the kids and overall we enjoyed a great day at the lake. We went out another two times with them during our stay in Osoyoos. Thanks!
This is the third year in a row we managed to book Wakepilot during our vacation in Osoyoos. We had tried to rent a boat and take the kids out, but failed to give them the instruction they needed. We found Wakepilot online – amazing. The kids and my husband all managed to board that day. We enjoyed it so much we went back last year and this year too. Each time we take someone who has never wakeboarded before, they have succeeded. Thank you Wakepilot for being part of our annual summer vacation!
This is our second year riding with Wakepilot and have to say, they are the best in BC. Excellent coaching, good equipment, very reliable and professional and… a great boat! The wake is second to none. Looking forward to riding with these guys as much as possible!
If you are looking for a great wakeboarding experience, go here. The Coaches are great fun, knowledgeable and got me clearing the wake again after a couple of years off. The boats and equipment are awesome and I only stopped because I physically couldn't carry on. Next time we're in Osoyoos we'll be back.
Thank you so much for our experience on the weekend. I couldn't believe I was able to get up on the wakeboard on the first try! The coach used a couple of dry land drills to show us the technique and it was so helpful. We even got the chance to wake surf which was so cool.
Victoria Day to Labour Day
8:00am – 7:00pm
Labour Day to Thanksgiving
9:00am – 5:00pm
Call anytime.
We are available outside of
regular hours and off-season.